Chantal Joffe
The main room at the Jerwood in Hastings is a light and airy contemporary space.  My first impression was that I was entering a scene from the film Shaun of the Dead.  The most arresting feature of Joffe's portraits are the eyes.  They stare but don't stare, as if drugged.  The work is painted with confident, minimal strokes, but for me lacks soul.  Siri Hurstvedt in her book Living, Thinking, Feeling suggests that it isn't possible to relate to a painting in a few seconds, so I stood and looked and waited for the connection.  It didn't happen, I just became more aware of the brush strokes.
I know I am missing the point.  She is a highly acclaimed artist winning the £25,000 Charles Wollaston Award in the 2006 Royal Academy summer exhibition, for the "most distinguished work in the exhibition". 1.  Interestingly the exhibition was curated by Rose Wylie, winner of the equally acclaimed John Moores Prize, 2014, who I am also struggling to understand.  Their naive but educated style is troubling me.  Why?  Perhaps my research for my essay on Being Authentic will help with this dilemma.
My dilemma is not shared.  In 2006, an editor of British magazine Latest Art described Joffe's large paintings as "simply exquisite representations of femininity".2.
'She is known for her arresting portraits of women. Working from photographs, she uses broad, fluid brushstrokes to animate her protagonists. Ranging in scale from a few inches square to monumental canvases, her iconic depictions, which are often intimate and imbued with humour, testify to the concerns and mores of women from diverse walks of life.'
https://www.royalacademy.org.uk/artist/chantal-joffe-ra-elect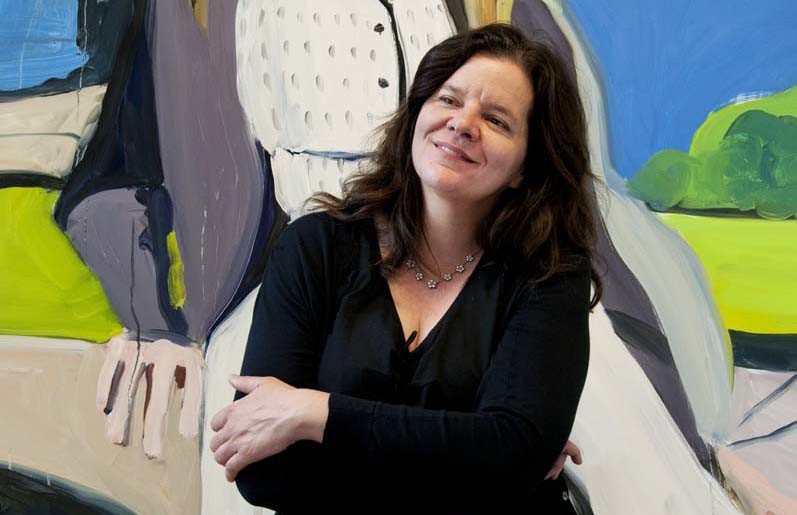 https://www.royalacademy.org.uk/artist/chantal-joffe-ra-elect
http://fadwebsite.com/2015/02/07/review-chantal-joffe-beside-the-seaside-jerwoodgallery-hast
Rose Wylie
At the exit from the Joffe exhibition there is a small room which contained a curious mix of work by Joffe and Wylie.  Everything looked like Wylie's work but a laminated note suggested some was by Joffe. It was difficult to tell whose work was whose.
http://www.jerwoodgallery.org/collection/6/silent-light-film-notes
Edward Burra
Upstairs there was a small exhibition of work by Edward Burra.  I have written about Burra before, whose work I much admire.  Two pieces stood out for me.  Both have an abstract quality, are complex, narrative and thought provoking.
Ropes and Lorries – pencil and watercolour
43½ x 30½ in. (109.9 x 76.8 cm.) painted in 1942-3.
http://www.mutualart.com/Artwork/Ropes-and-Lorries/86DC0B36A7E41564
Hastings Pub – pencil and watercolour 68.6 x 102.8 cm. (27 x 40 1/2 in.) painted in 1971
http://www.jerwoodgallery.org/whatson/24/in-focus-edward-burra-a-rye-view
David Bomberg
Also upstairs were works from the Jerwood collection including two works by David Bomberg, who was the tutor of Roy Oxlade (husband to Rose Wylie, a small world), and about whom Oxlade wrote his Ph D.  The brushwork on this oil portrait of Eunice Levi is captivating and can only be appreciated in the flesh.
http://www.jerwoodgallery.org/collection/18/portrait-of-eunice-levy
Anemones 1937 Oil on canvas 56 x 41 cm
http://www.waterhousedodd.com/david-bomberg
Bomberg proves with this work that the subject is merely  a vehicle for the paint.  I could have looked at it for hours.  The palette knife stokes, the colour, the pain I knew he felt at the time of painting this work.  It is all there.
'Bomberg produced a number of flower paintings during the later years of his career, principally in two specific periods. The majority of the works were produced in London in 1943, but a significant smaller group were produced in 1937. At first, it is hard to reconcile Bomberg with this particular subject matter, which is so often used for purely decorative means. However, in Bomberg's hands the floral still life loses its botanic meaning and becomes another exercise in form. He approaches his subject matter as a sculptor would, producing an evocation of structure and mass. As such, these often very beautiful paintings are entirely in keeping with the rest of his oeuvre. This painting was produced after the artist's return from Spain in November 1935.' http://www.waterhousedodd.com/david-bomberg
"Prizes and prizewinners 2006 – Summer Exhibition". Royal Academy of Arts. Retrieved

12 December

2010.
Meacher, Colette (Autumn 2006). "Phenomenal Women". Latest Art: 24. Retrieved

12 December

2010.