I attended the study day led by Bryan Eccleshall.  My intention was to better understand the scope of the term 'drawing'.  It was a bonus that earlier that week Bryan had been awarded one of the two student prizes for his submission, so he was able to impart 'insider knowledge' on how the process worked and offer encouragement to those present to 'have a go'.
Bryan's drawing of Free and unpredictable … After Joseph Beuys' 'Wirtshaftswerte http://www.theguardian.com/artanddesign/jonathanjonesblog/2015/sep/17/jerwood-drawing-prize-european-drawing-learns-chinas-flow
I wasnt disappointed by the scope of the work.  From traditional drawings  to pinpricks, from scratched pans to a video of the lines on a  
runway, from a plastic thread and perspex sculpture to a beautiful embroidered textile pelvis and a notebook documenting every nut/bolt/screw in the drawer's shed.
Seeing the works through Bryan's eyes really added to the experience.  We disagreed about the winner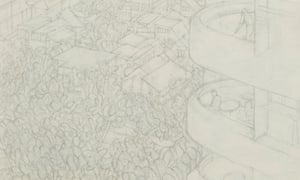 a section of which is detailed in the Guardian article.  Bryan felt it was a worthy winner, the Guardian called it poetic, I felt it was bland, the roofs lacked credibility and the work lacked passion for me.
My personal favourite of the conventional  images was an exquisitely detailed drawing of an outdoor space that you could revisit again and again and still not see it all.