I am embarrassed to admit that I knew absolutely nothing about Giacometti, other than I thought he was an Italian Renaissance sculptor.
Man with a pointing finger, recently sold at auction for $141m  http://si.wsj.net/public/resources/images/BN-HW779_CHRIST_JV_20150414211141.jpg
So wrong.  Alberto was born in Switzerland in 1901 and died in 1966.  His father, Giovanni, was also a well known post impressionist painter.  He is best known for his skinny sculptures, but he was also an extraordinary painter.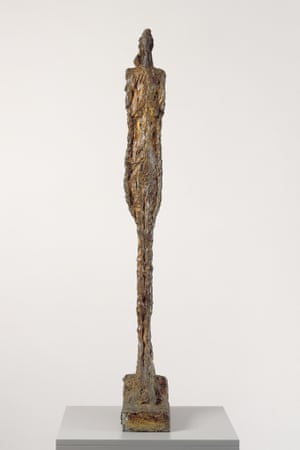 Woman of Venice VIII by Alberto Giacometti, 1956. Photograph: The Estate of Alberto Giacometti/NPG
http://www.theguardian.com/artanddesign/2015/oct/13/giacometti-pure-presence-review-national-portrait-gallery
In 1922 he moved to Paris to train with Antoine Bourdelle, an associate of Rodin.  However, this exhibition is more about painting than sculpture, and Alberto's close relationship with his family.  His mother, his brother Diego, his wife Annette and 'Caroline' an acquaintance with questionable connections, each have a room.  His portraits are extraordinary.
Diego
Jean Genet
http://www.bbc.co.uk/arts/yourpaintings/artists/giacometti-alberto-19011966/paintings/slideshow#/5
The subdued palette, the placement of the subject, the visible workings and reworkings, the energy, as if the marks have been scratched into the paint.
I am reminded of the recent Turner exhibition at Tate Britain, where after several rooms of beautiful work, I felt overwhelmed by the sameness. This exhibition had much the same quality, several rooms of similar work, but rather than feeling overwhelmed, it was their sameness that was captivating, that created the intensity of emotional connection to the work.
I am afraid all the images I could find do not do justice to his work.  It is one of those exhibitions that you just have to go and see.  The beautifully illustrated book of the exhibition is on my Christmas list.
With time to spare before I collected my granddaughter from nursery, I headed to the Borough Art Gallery on Borough Road, home of David Bomberg.  I somehow had managed to miss the recent Borough Group exhibition, but I knew they kept a small sample of work on permanent display.  The Elemental Force of Charcoal: Drawing at the Borough, on until 16 Feb, is a number of expressive charcoal works from the Sarah Rose Collection, by Bomberg and his students, principally Dennis Creffield, Edna Mann and Miles Richmond.
Beauvais Cathedral East End – Dennis Creffield
Surprisingly I found Bomberg's charcoal works heavy and lacking sensitivity, whilst this particular work by Creffield was an inspiration. The multilayered, suffused mark making, is powerful, sensitive and emotional, seducing the viewer in.  It is easy to miss the cathedral until alerted by the title.