I thought I had written enough today, then I saw this article in the Guardian about David Bowie stealing ideas and it reminded me of the importance of stealing ideas, plus it is unforgivable to let the passing of a legend go by without comment.
http://www.theguardian.com/music/2016/jan/11/david-bowie-style-icon-fashion-legacy-aladdin-sane?utm_source=esp&utm_medium=Email&utm_campaign=GU+Today+main+NEW+H&utm_term=149170&subid=13017126&CMP=EMCNEWEML6619I2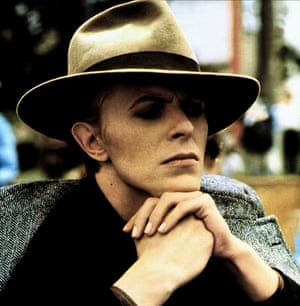 Photograph: Allstar/British Lion/Studiocanal
I grew up with Bowie.  I remember singing Major Tom whilst working at my first job in IT in 1969.  But it is not about his singing I want to reflect on, much as I loved certain periods of his work.
Of more interest is the 'essence' of Bowie, the character, the canvas, the ideas, the messages, the challenges, the presentation of those ideas.  Here was a creative individual so ahead of his time, so unafraid, so focused, so passionate, so talented, so multifaceted, in fact all the qualities necessary for success (see Richard St John), but success on his terms, his game, his rules.
He was the work of art.
David Jones, the lad from Brixton, took the world and shook it till it squeaked.  The end of an era.