The RA in Piccadilly is hosting this block buster of an exhibition.  A booked time slot event and visitors five deep.  Certainly not a relaxing experience, but I was heartened that such a subject could attract such interest.  Once past the first two rooms the crowds thinned and the paintings became riots of competing colour.
The Monet waterlilies large triple canvas formed the centrepiece of the exhibition, in the final room, and if I hadn't already visited the excellent Musee Marmottan in Paris, I would have been more excited by the works.  There is a short film of Monet's garden at Giverny  https://www.royalacademy.org.uk/exhibition/painting-modern-garden-monet-matisse  One confusion, as a trained and enthusiastic gardener, is why the RA has called the Waterlily tryptych, Agapanthus, repeated by Jonanthan Jones, http://www.theguardian.com/artanddesign/2016/jan/25/painting-the-modern-garden-monet-to-matisse-review-royal-academy-london,  beats me.
The Monet that did excite me was the sumptuously detailed
Corner of the Water Lily Pond (1918-1919)  https://s-media-cache-ak0.pinimg.com/736x/67/d1/f4/67d1f4dd5089d1ecbefa5f8c4f3a4a62.jpg
Watching the short film of Monet, (in a room surrounded by large format photographs of all the participating artists), actually painting in his garden, was a real education.  Working in such sunlight is apt to mute the colours, but the genius of Monet was his ability to extract every last drop of exquisite colour onto his canvas.  Extraordinary.
For me the star painting of the show was by an artist I have never encountered Joaquin Sorolla y Batista, a large, technically brilliant painting that swamped the senses with colour and light.  By comparison, the Noldes that I had been looking forward to seeing, were a disappointment.  Flat, dull composition, certainly not his best floral works.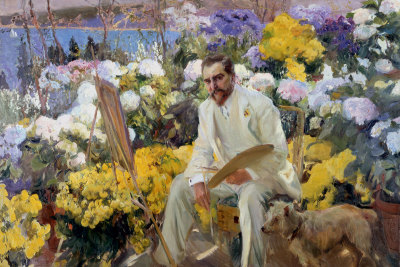 Louis Comfort Tiffany, 1911 Oil on canvas. 150 x 225.5 cm.
Another favorite from a private collection was  a Manet.  With 150 world class paintings, it was difficult to make an impact, but this relatively small work, shone through.  Manet's informal brush strokes created a haunting luminosity, a freedom, that many of the other works lacked.
Young Woman Among the Flowers 1879  https://susanmilleruk.files.wordpress.com/2016/02/d2f27-18792byoung2bwoman2bamong2bthe2bflowers2boil2bon2bcanvas2bprivate2bcollection.jpg
Finally, I was surprised and delighted to see my daughter in the bottom left corner of a work by Bonnard, dated 1912!
Summer in Normandy 1912 https://susanmilleruk.files.wordpress.com/2016/02/753c0-1912summerinnormandy.jpg
I was interested to note that Martha Rosler is 'an avid gardener' and has taken pictures of flowers for many years. (Thornton, 2014) p98.
My own exhibition of flowers with attitude in May, and my TYB project couldn't have been more timely.  I am in excellent company.
1 Thornton, S. (2014). 33 Artists in 3 Acts. London: Grantna.